2002
Staring: Naomi Watts, Martin Henderson, Brian Cox
Director: Gore Verbinski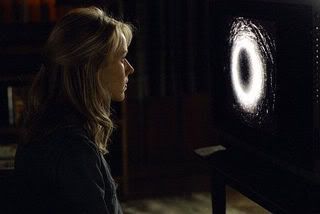 Summary:


Journalist Rachel Keller (Naomi Watts) decides to investigate what caused the mysterious death of her niece (Amber Tamblyn). She soon finds that 3 of her niece's friends all died at the same time she did that very evening. A rumor spreading around the school is that a mysterious cursed video they watched killed them.
Rachel soon discovers the cabin that her niece stayed at, and discovers an unmarked video... which watches in the very cabin her niece stayed. After a terrifying phone call Rachel is convinced that she has 7 days to live and must unravel the mystery surrounding the tape, especially after her son, Aiden watches it. With her friend Noah (Martin Henderson), she must quickly find out how to break the curse, before their time is up.
Review:


The Ring was both a blessing to modern horror and the very thing that ended up damning the entire genre. The film is one of the few horror films to be actually well developed and well crafted, without having to hold onto the crutch of being gory for the sake of being gory. The unfortunate side effect was that, since this film was pg-13, it opened the door for producers to start shoveling out the current schlock that's out there now. The difference between those crummy films and this one is that this film has atmosphere and a tone that doesn't lend itself to "low budget cinematic garbage"
Much of the success of the atmosphere of the film leans directly on Gore Verbinski. The must unfortunate thing was that he bailed on the sequel and moved on to do the bloated Pirates franchise. The result of this move was a very mediocre Ring Two, but that's another review.
Verdict: ****/*****