1994
Director: Too many to mention
Music By: Thomas Dolby, Dr. Fiorella Terenzi
Edited by: Michael Boydstun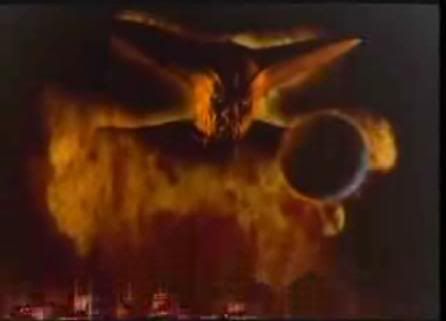 Summary:


Like the original, the plot is divided into music videos, each displaying different animation and music to fit the mood of the piece. This is a fully computer animated film from 1994, which showcased dozens of animator's talents.
The world is in chaos. The battle to save Earth wages on, and it looks like all is lost. The only way to end it all is to start completely over. Will the new world suffer the same fate as the last?
Review:


While I said nostalgia was the reasons I enjoyed the first movie in the series more than its "technically" superior sequel, it is not true for "The Gate."
Visually stunning, some elements almost hold up even today (if not at least 5 years ago). The music is hypnotizing, and fit better in this film than even the previous to films did. Of course there are some pretentious critics, claiming that this film is "behind the times", even for 1994, the freaking dawn of commonplace computer animation.
This entry into the seriously has an mildly loose theme running through most of the film.
In addition to the "apocalyptic Earth"/"Rebirth" theme, there are a few music video style stand alone shorts towards the end. "Armageddon" and "Nuvogue" are the highlights of the video.
Verdict: ****/*****