2007

Staring: Simon Pegg, Nick Frost, Jim Broadbent, Timothy Dalton
Director: Edgar Wright
Writers: Simon Pegg and Edgar Wright, (who both worked on Shaun of the Dead and Spaced).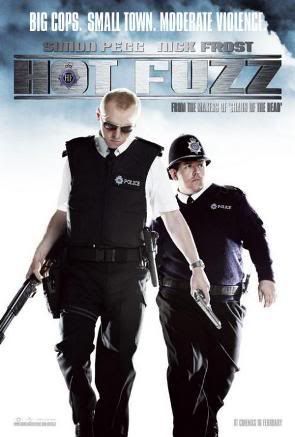 Nicholas Angel is the best officer on the force. He's so good that no one likes him. He makes everyone look bad. He's messing up the averages for the rest of the force. So what's to be done with such an exemplary police-man officer? Ship him off to some Podunk town in the country that has virtually no crime.
When he heads to Sandford, he begins to realize that not is all well with this "perfect" town. Overall the police force is some of the most incompetent people out there.
Danny Butterman (Nick Frost), is Angel's new partner and is as bumbling as you'd expect Nick Frost to be (he's basically playing Ed – with a job - from Shaun of the Dead). His father, Frank Butterman (Jim Broadbent) is the chief inspector of the village. And the rest are completely useless.
The only person who actually seems sinister is Simon Skinner (Timothy Dalton), owner of the local supermarket. Timothy Dalton is perfectly cast in this role. Who would have thought JAMES BOND would have been so funny? It's a shame he didn't get more chances to show how good of a Bond he could have been – but hey, that's another post.
Lets just say that this film covers just about all the bases of an action film. It exposes all the clichés and actually expands on others – bringing it all to such a sheer level of absurdity that you just can't help to love.
Verdict: ****/*****
Minor Spoilers: Cameos abound in this film. Some familiar (and not so familiar faces) for an American audience may include: Martin Freeman (Tim in The Office), Stephen Merchant (The Office), Steve Coogan (Alan Partridge), Bill Nighy (oh, I think you know him), Peter Jackson, and Cate Blanchett.