1932
Director: Tod Browning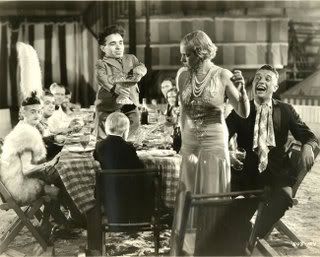 The very cultish film, Freaks, is extremely disturbing, but not for the reasons you'd think so.
The film uses real "freaks" – the people in the film are NOT dressed up in prosthetics or costumes. This is exactly what they look like.
The plot concerns a circus and it's "attractions". Cleopatra - the quite un-deformed trapeze artist - is conning the German midget Hans, mostly because he's in love with her. She's only after his money – and continues to lead him on to get whatever she wants.
Another midget, Frieda, loves Hans and sees right through Cleopatra. She pleads to stop their impending marriage – but she refuses. What follows is nothing short of bizarre – the wedding feast – where the "Freaks" chant "One of us, one of us, Gooble, Gobble…"
I just have to say that the ending isn't half as exciting as the buildup to the climax.
Verdict: *** ½ /*****