Well, it's arrived. The Prisoner remake staring Jim Caviezel and Ian McKellen as Number Six and Number Two has aired and I've finally caught the first episode.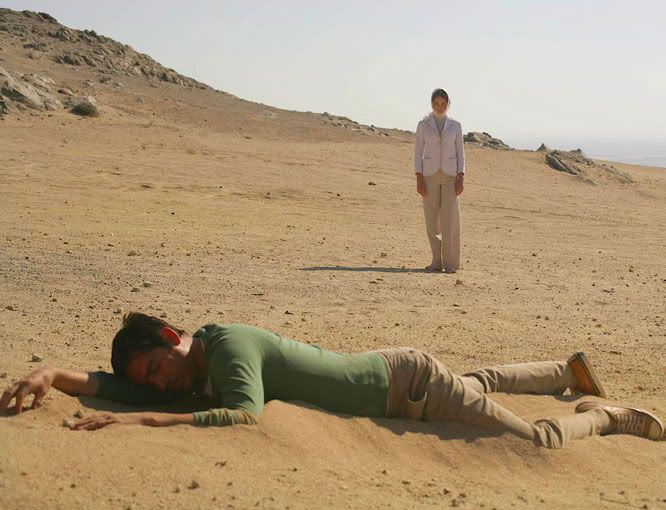 The series, or should I say mini-series, is based off the wildly popular cult classic, The Prisoner, staring Patrick McGoohan. I've been on a massive Prisoner kick lately, dressing up as Number Six for a Halloween party, and flying through 15 of the 17 episodes as of writing this on my newly purchased Blu-Ray set of the series so this new show couldn't have come at a better time.
What I observed was an interesting adaptation of the series in "Arrival," the first hour of the new mini-series. There are many homages, some subtle, some overtly obvious throughout the first hour.
The first hour concerns us with Six, a man who wakes up in the middle of a desert under mysterious, and is there due to circumstances unknown to him. As he begins to get his bearings, he sees an old man (dressed in a costume reminiscent of the original series) who is being shot at. He's able to rescue the man, who is gravely injured from fatigue. He's happy to "escape" and tells Six to "go to 554" before he dies. Six wanders into the Village, confused and unaware of exactly where he is. The locals he runs into, a taxi driver (played by Lennie James of "Jericho" fare) and then later Number 313 (played by Ruth Wilson) only add to his confusion. Two (McKellen) enters the picture and Six finally collapses. He wakes up in the hospital, but is told he is allowed to leave. When asked if he could leave the town, he's essentially told there that there is nothing else out there. He befriends 554, who is later killed in a bombing of her cafe - she tells him to head out into the desert. He finally makes a break towards the desert, where Rover attacks him and leaves him passed out on a dune.
End Episode.
*** 1/2 out of *****
On a side note, they wrapped up filming on my birthday last year.