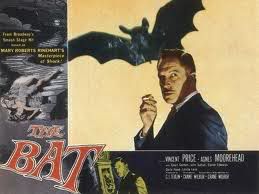 The Bat is a horror film that is more horrible than it is horror.

I suspect that this film is largely forgotten except for that it starred Agnes Moorehead and Vincent Price. The Bat concerns itself with a writer by the name of Cornelia van Gorder (Moorehead) who purchases a house of a recently deceased bank president who had committed a serious case of embezzlement.

The Bat plays a lot more like a strung out television anthology episode than it does an actual film and would have probably best been suited as a 25 or 50 minute story. The themes are a mish-mash of horror, thriller and mystery and none really meld too well together. There's just not a lot of vision here. The film is bland and boring to the point that not even Vincent Price could save it.