Staring: Rose McGowan, Freddy Rodriguez, Josh Brolin, Marley Shelton, Michael Biehn, Bruce Willis, Naveen Andrews, Stacy Ferguson
Director: Robert Rodriguez




As I've already stated, I wasn't impressed by "Death Proof." This film surprised me quite a bit. Not knowing anything about this film aside from the cast, and that Rose McGowan had a gun for a leg (from all the commercials and the posters), I ended up being in for a great treat.

The film was more of a takeoff of cheap, corny, low budget, horror films of the era, and that works out to its advantage. The pops, scratches, burns, and even missing reels make the viewing experience that of a crummy, used up old copy of a film that you might see at a dollar discount theater, theater screw-ups.

The plot is razor thin, but enjoyable. They pull every cliché possible, from the man with the shady past, everyone connected in some way, and just about everything else under the sun.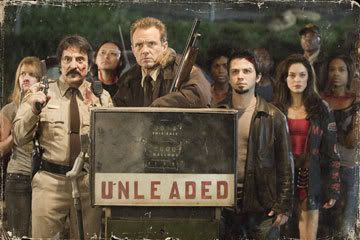 Also, I don't know how they did it but they made Stacy Ferguson not look used up! I'm just disappointed that it wasn't Randy Spears as one of the soldiers as both my brother, Matt, and myself thought exactly at the same point in watching the film. I laughed, smiled, and all around had a great time with it from start to finish.
And there we have it. My mega-multi review of Grindhouse. I hope you all enjoyed it. If you haven't seen Grindhouse yet, go.
Verdict: ****/*****