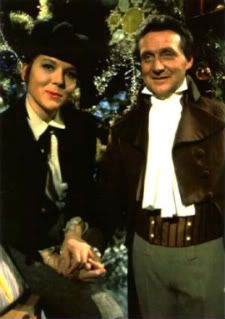 Too Many Christmas Trees is an episode of the Avengers, the classic 1960s british detective and spy show staring Diana Rigg as Emma Peel and Patick Macnee as John Steed.

Too Many Christmas Trees doesn't contain a lot of "Christmas" in the story, but is set in December, with Steed and Mrs. Peel traveling to a Christmas party. The story mainly consists of a group of people who are trying to psychically control John Steed's actions. The story heavily involves Dickens, with notable instances of "A Christmas Carol" being introduced into the story during the Christmas party.

The episode deviates slightly from the normal formula that the show normally revolves around, where the team is brought in to solve a case or mystery. The story involves an organization going after Steed himself. The episode prior to this "Two's a Crowd" also follows this same formula.