Who Framed Roger Rabbit? is the wonderfully fantastic 1988 fantasy film directed by Robert Zemeckis. The film mixes live-action and animation together. It may looks "rough around the edges" today, but it is a revolutionary film.

The film was produced and released by Walt Disney Pictures under the Touchstone banner, and includes Disney (Mickey, and the rest you should be aware of), Warner Bros (Bugs Bunny, and the rest you should be aware of), MGM (Droopy, as well as others), Paramount Pictures (Betty Boop), Universal Studios (Woody Woodpecker), as well as others.

The film stars Bob Hoskins as private detective Eddie Valiant, Christopher Lloyd as the notorious Judge Doom, Joanna Cassidy as Eddie's girlfriend Dolores, Charles Fleischer as the voice of our illustrious title character, and Kathleen Turner as the voice of the sultry Kathleen Turner.


The casting was fantastic. Bob Hoskins plays a great detective. For my entire youth I didn't even know he wasn't a warm-blooded American. Of course in retrospect if you listen closely you can hear the typical "I have a cold voice" that many actors put on to mask the Britishness of their voice – but I digress. Christopher Lloyd was a masterful villain – how he doesn't make it somewhere on the AFI's 100 Villains list I don't know. And jeez... Jessica Rabbit? I mean, I don't want to get inappropriate... She's not bad, she's "just drawn that way." Oh yeah, "Nice booby-trap".

Animation-wise this is a masterpiece. Most films made which combine animated characters were relegated to simple gimmicks and in musical numbers. This could range from either kind of hokey like the dancing penguins with Dick Van Dike or wonderful but pretty much banned like the film Song of the South. And before you say, hey Chris, what about the Blue Man Group people from Avatar? What about Jar-Jar Binks? Well CGI really has gone a far way, but it's just *not* the same. This isn't even mentioning that this film did most, if not all of the heavy lifting without the extensive help of computers – unlike later films like Space Jam or Looney Tunes: Back in Action. As an aside to the conversation, Looney Tunes: Back In Action is a far superior to the dated, and pretty lame Michael Jordan vehicle that is actually pretty difficult to watch these days.

The film is jam packed with cameos from just about every famous classic cartoon character that was created in the heyday of Hollywood's golden era. The sheer sight of seeing both Bugs and Mickey on the same screen at the same time is amazing. It's also full of references to sight gags, and other classic gems. I never realized that the Toon Town musical entrance was based on a 1931 Foxy cartoon (Smile, Darn Ya Smile!).


Perhaps the best scene in the entire film is when Eddie enters the club and sees
Daffy and Donald in a piano battle
. A fan of classic cartoons who wasn't sold on this film's brilliance by this point could never be swayed seeing both ducks, from rival studios together in a honest to goodness film fighting each other. The scene is almost as good as the later scene where Eddie meets
Bugs Bunny and Mickey Mouse
during an unfortunate time to ask a 'toon for help.
The reason I always come back to it so often is that the film is not designed for only the kids to enjoy. This film is so full of adult themes that I may have a hard time letting my kids watch it until I think they're "ready." It can appear downright crude at times, through the crafty minds behind the film were able to make a lot of the jokes so implied, that without the right context, it'll go right over your head. That's because I did watch this as a kid, and for the life of me most of the mature themes did go straight over my head. It wasn't until I was much older where I really appreciated the subtle nature of the adult humor of the film.
Playing "patty cake" and having Roger get all worked up over a simple game when you watched it as a kid? How about the increasing pitch of her voice during that scene when you watched it when you were older? Woah. That was funny as a kid but taken to a completely different level, perhaps building, as an adult. Oh the joys of my naïve youth. I mean, seriously? Is Jessica Rabbit singing "
Why don't you do right?
" anything but for the dads who were dragged to see this film?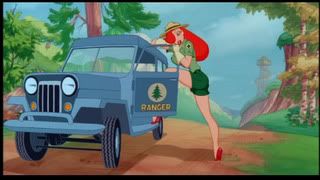 Honestly the saddest story to come out of this film was that animation director Richard Williams eventually got recognized because of his work on this film, and then subsequently got his life's work, The Princess and the Cobbler, taken away from him. The resulting film is the kind of movie that you see in a Supermarket rack with the rest of the crummy $6.99 DVDs. Occasionally some of the films turn out to be gems, but "Arabian Knight," the bastardized version of William's work is not that film.
The film was a resounding success, the second biggest film of 1988. It spawned 3 short films that appeared before some family and kids movies over the next few years, but no sequel has ever been able to get off the ground. Some rumors have been passing around the last year or so that there may finally be one on the way. I can only hope that it can live up to even half of what the first film was able to. Things have changed and I don't think that a sequel can ever have the same kind of appeal without making it more childish and less adult instead of finding some good balance between the two. But here's hoping.
***** out of *****